Transforming Solar Powered Water Access…
SolarPlex solar water pumps promise superior pump performance and durability for significantly better value for money than any other solar pumps of like kind, quality and price.
The superior performance and low cost are a result of their advanced, integrated software and electronics, developed in collaboration with Oxford academics and other world-experts in the field.
Grow your SolarPlex alongside increasing demands by simply adding solar panels!
SolarPlex Key Features
SolarPlex pumps deliver higher heads at competitive flows…
FLOW RATE
Up to 5,400 litres per hour
TOTAL HEAD
Up to 75m
INPUT POWER
From 100 to 800W
… …and can be upgraded to up to eight times their starting power.
How SolarPlex pumps fit into the existing solar pump market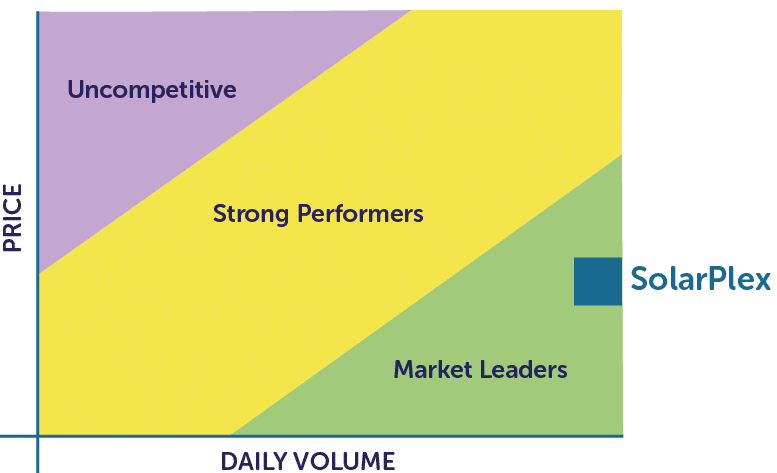 Setting the new benchmark for solar water pumps…
The SolarPlex integrates the latest generation of brushless permanent magnet motors with advanced Maximum Power Point Tracking (MPPT) and Field-Oriented motor control. This enables it to achieve excellent performance across a wide range of pressure and flow requirements and varying sunlight levels, particularly in cloud and at the ends of the day.
By incorporating top-quality components including metal oxide capacitors and NSK bearings, we offer an unprecedented combination of high efficiency and reliability. Advanced algorithms, developed by world-leading Oxford engineers, have then enabled us to miniaturise and integrate our electronics into the pumps motor casing, further increasing durability and resulting in pumps that deliver top-end performance at significantly more affordable prices.

The Impact Pumps SolarPlex is sold through a network of approved distributors.
For distribution enquires and volume orders please complete a distribution form and our Sales Director will be in touch.
SolarPlex FAQs
---
Our award-winning technology has been developed in collaboration with: