We have started construction on our resilient groundwater pump for a drinking water supply in Kitui, Kenya. This project is in partnership with Fundifix and supported by Innovate UK and the Wellcome Trust.
Background to the project
It is common to see handpumps installed in rural communities to provide water for drinking and domestic use. Whilst it's clear that handpumps have revolutionised access to water for millions of people, they are labour intensive, maintenance intensive and suffer from under-developed supply chains of labour and parts. Often, they are not well-maintained and it is estimated that around 1/4 of them don't work.
There are several submersible water pump options which are becoming increasingly popular alternatives to handpumps. However, they still have maintenance issues caused by silt/grit, overheating and dry-running.
The FlexExtend solution
The FlexExtend solution is a unique set up where the pump acts as a 'range extender' to a surface pump. This allows surface pumps to access deep groundwater, up to 50m below ground, without fault-prone parts being inaccessible below ground and underwater. This is a common problem with traditional submersible pumps.
The FlexExtend is highly durable and has a proven record of maintenance free pumping for years in the field. The drive pump is located at the surface and is easily accessible for servicing, if needed.
In the situation that a drive pump requires maintenance, this pump can easily be swapped-out for another pump in under two minutes. This approach allows customers to experience minimal loss of water pumping time and means the maintenance team can service the original drive pump.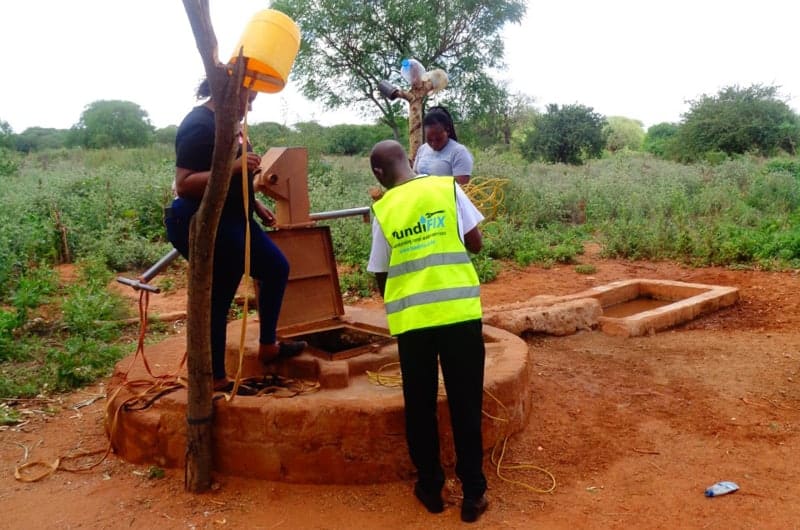 We will be providing updates throughout this exciting project whilst we assess the feasibility and benefits of the FlexExtend solution to provide much more reliable water supplies for rural communities.
If you would like to find out more about this project, or think you have a suitable community water site, please get in touch.